Project Timeline, currently underway
The Kallimos Lake House was built in the 1890′s on the east shore of Cayuga Lake, accessed by rail or boat.  It is tucked in the nook of a gorge with a steep hill ascending its north facade and a creek along the south face.  The project requires the addition of a large rear bedroom, bathroom, and mechanical closet on the ground floor  while maintaining the existing rear bedroom on the second floor.  The challenge here is to support a twelve foot cantilevered room while the structure below is dismantled and built anew.  The foundation, which had been sitting in the mud on its uphill side and sagging in all the wrong places, is jacked, leveled, and bolstered with new columns.
The photos below outline the project so far: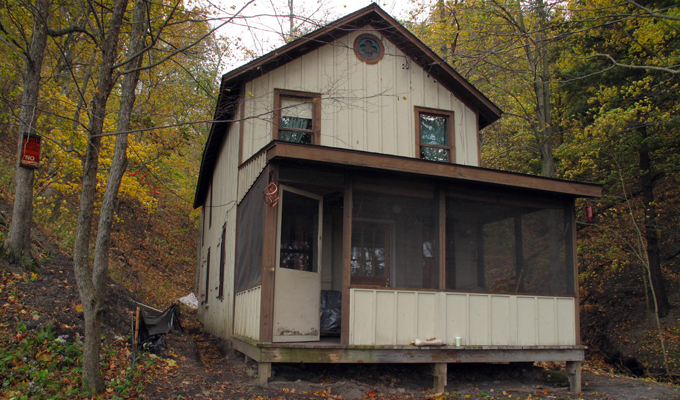 West facade of the Kallimos Lake House.  The foundation had been supported by stumps and rotting posts.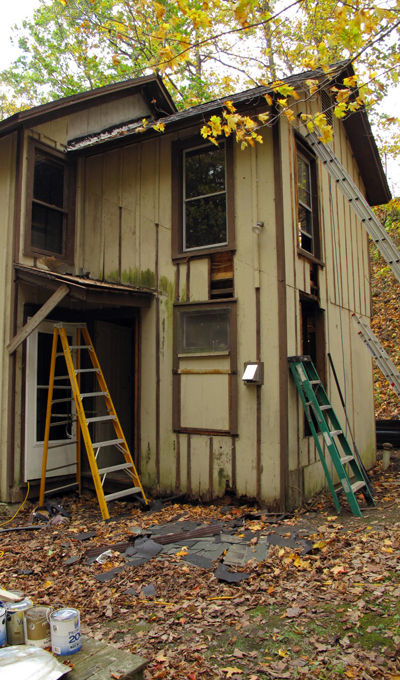 The back of the house held mechanical equipment and a bathroom with a bedroom above.  A host of mice and possums also made their homes here.  The ground floor is about to be removed…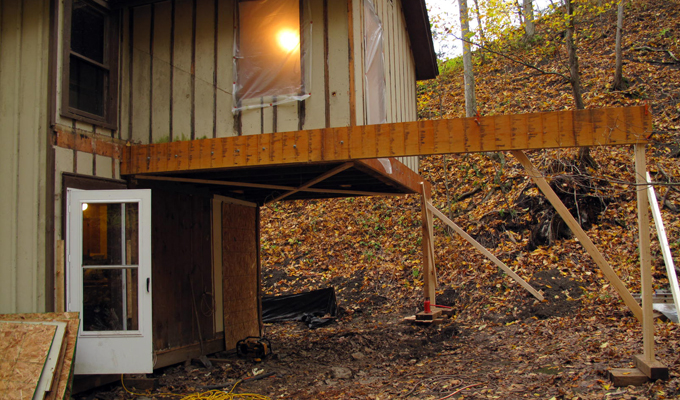 LVL beams support the second floor bedroom while the house is jacked and leveled.  14 jacks are used to raise the entire house.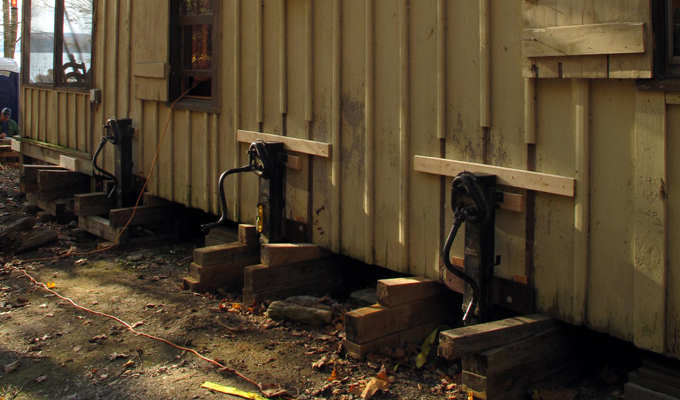 10,000 pound jacks support the house.  40 turns to the inch make for an easy lift, but lots of rotations.  Cribbing piles ensure that the house will never fall more than a 1/16 of an inch.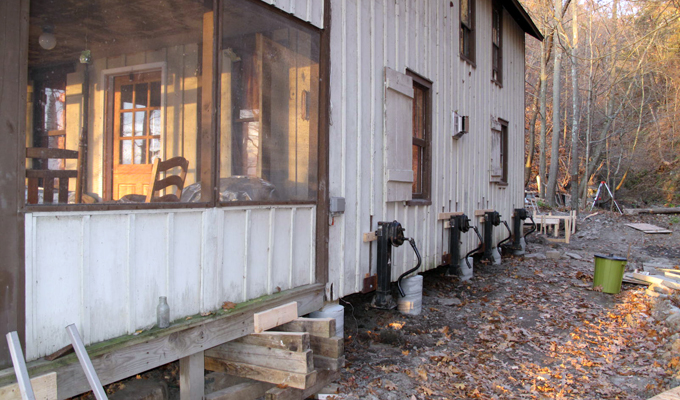 Concrete columns provide a solid, level found foundation for the tired house.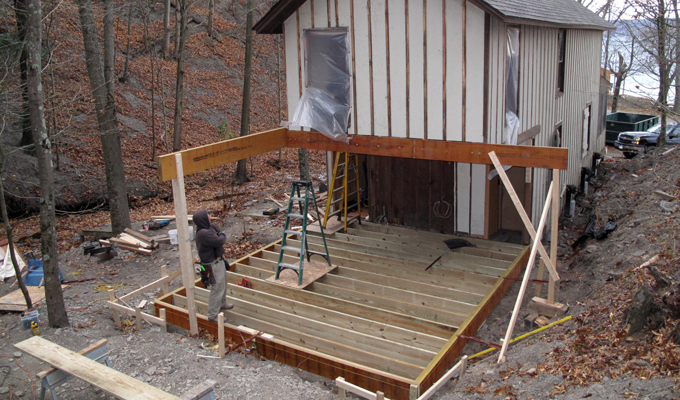 Beginning to frame the addition in the back.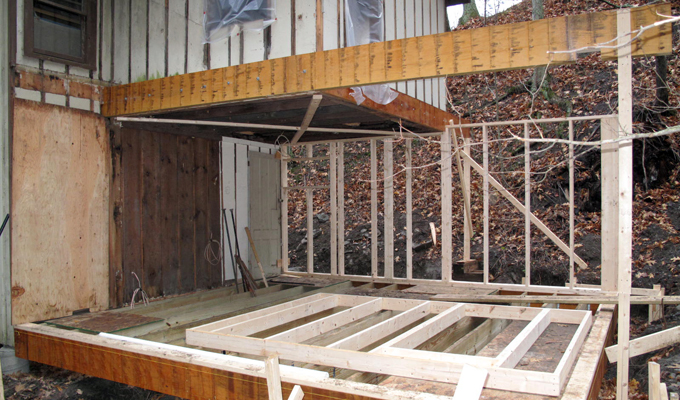 The walls are ready to go up!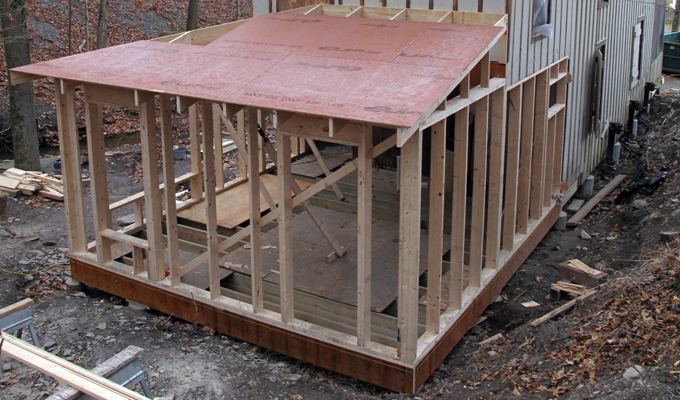 The roof sheathing is on!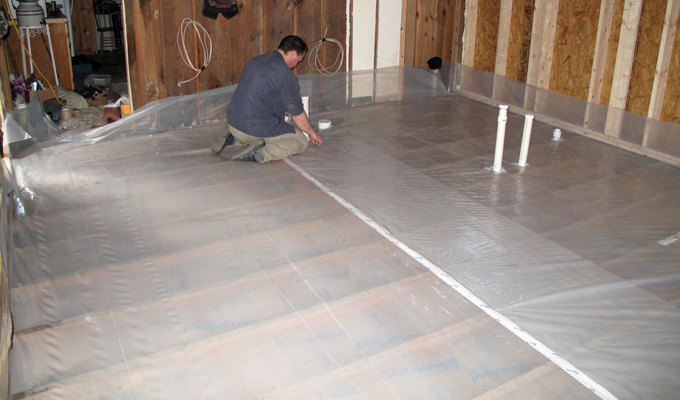 The floor is insulated and a plastic vapor barrier is applied to ensure that moisture is kept out of the conditioned living space.  Any condensation will dry to the outside of the house.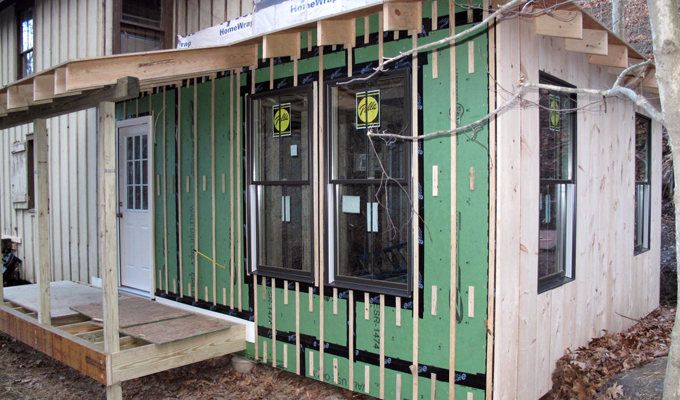 Board and batten white pine serves as the exterior finish (right).  The board and batten is spaced with pressure-treated furring strips to ensure a proper rain screen – or a drainage plane for water.